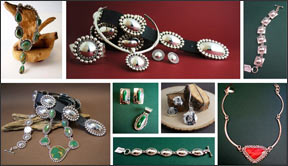 Sisters Gloria and Artie Yellowhorse were born and raised on the Navajo Indian Reservation in Arizona. They are part of the Towering House Clan and are third generation silversmiths. Their Grandfather, Cuthair Yellowhorse, initiated the Yellowhorse family tradition of working with silver and turquoise. "Our dedication to quality is the desire to represent our people in the most honorable way," says Gloria.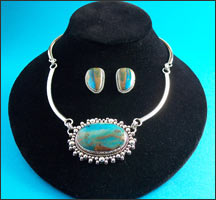 Known for their creative designs, high-quality stones and unswerving excellence in fabrication, this talented family creates a whole array of jewelry which has a distinctive style that is easily recognizable. One of the wonderful features of the Yellowhorse jewelry is the complementary designs which make it easy to mix and match designs and stones. Although sold individually, these jewelers enjoy making matching sets with and without stones, producing cuff and link bracelets, necklaces, concho belts, collars, pendants, pins, cufflinks and rings.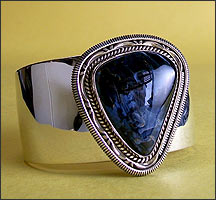 Working in gold and silver, their jewelry includes contemporary and classic looks. In addition to using turquoise from a variety of mines, their jewelry is set with colorful and exotic materials from around the world, including amber, amethyst, blue topaz, boulder opal, carnelian, charoite, coral, gaspeite, lapis lazuli, Madagascar jasper, malachite, moonstone, Moroccan ammonite, onyx, pearls, pietercite, peridot, Peruvian opal, spiny oyster, sugilite, walrus ivory, zebra gasper, and more.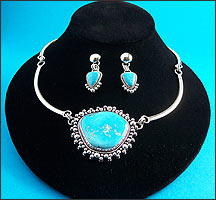 Their trademark "Rising Sun" design is one of their most popular collections with its round or oval-domed center surrounded by small drops of silver - each one made by hand. Their shadowbox design also begins with a round or oval-domed center surrounded by a sleek shadowbox that results in a stylish, sophisticated look. Tiny drops of silver form the center of the charming dogwood flower designs. Twisted wire or drops of silver are also used to encircle stones. Hammered silver may provide the backdrop for an inset of pearls, or simple, stand-alone chic simplicity.
Artie has built a successful jewelry business today, providing the opportunity for a staff of Navajo and Pueblo jewelers to produce the Yellowhorse Family designs, as well as their own work. Gloria's son Richard (known as Little Yellowhorse) and Artie's two daughters, Desiree and Lei Lani, are also involved in the business.
"Making jewelry is hard work," says Gloria who travels cross country to represent the family business. "Our reward is the feeling of pride and satisfaction of the finished piece of jewelry. The joy and beauty of Navajo jewelry contributes to the wearer and helps in understanding the Navajo concept of 'Walk with Beauty'."
©The Indian Craft Shop 2006