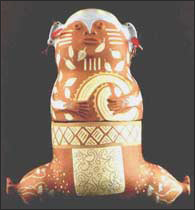 Roberta Antonia Wallace is a multi-media artist whose works reflect her passion for art history, culture and storytelling. An enrolled Cherokee, with Apache heritage, Roberta became interested in the tradition of Cherokee pottery while pursuing her Bachelor's Degree in Art History at the University of Oklahoma. She is a self-taught potter and has since become a well known and respected for her work.
"Art is a commentary on the beliefs and traditions of any culture," says Roberta. "It is important that our ancestors' art forms not be forgotten. When art is lost, part of our culture's quintessence is lost." Her commitment is evidenced in her pottery. The materials, forms and designs of her ancestors strongly influence her work. Roberta uses local Oklahoma clays and traditional preparatory steps to produce her award-winning pottery. She employs intricate construction and design techniques to assure the highest qualities in her classic representations.
She's worked hard to gain this knowledge. While studying at Oklahoma University, Roberta became a frequent visitor to the Stovall Natural History Museum, researching their vaults and learning about the preservation and conservation of historic pottery. She became a privileged researcher at Stovall, as well as at the Sam Noble Oklahoma Museum of Natural History and other state museums, gleaning their vaults for more information about early artforms and designs.
This research has provided Roberta with extensive knowledge of pottery from the Eastern Woodlands and Mound Culture groups, ancestors to the modern day Cherokee. On one such occasion, she spent a month in Florida developing a personal journal from a newly established archaeological site, gathering fresh cultural confirmations and insightful research ideas. As a storyteller versed in Cherokee folklore, Roberta helped foster an open dialogue between professors and community elders.
"As an artist and storyteller, I create a living, tangible view of our culture by translating abstract lines and curves into a storyline that can be vividly dramatized orally and through other artistic mediums," says Roberta. " I have developed a personal language table, which aids in the interpretation of symbols and motifs from pre-historical American Indian cultures within Oklahoma and Eastern Cherokee ethnology."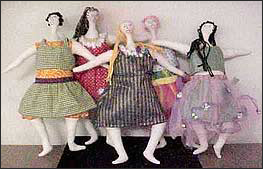 Roberta Wallace's commitment to quality and culture is found in all of her art. In addition to her pottery, Roberta makes a variety of dolls. Her "Happy Girls" are delightfully contemporary and colorful. Her "Tricksters" are whimsical and bring a smile to everyone's face. Tricksters cause confusion amongst The People. They are conjurers of humor and trouble, changing shapes, from human to animal or fish, to fulfill their charades. "Each of my tricksters are a portraiture of their mastery of disguise and physical manipulation," says Roberta.
Darryl lives in Gallup, New Mexico with his wife Rebecca and their two young sons. An art teacher, Rebecca now works with Darryl and creates her own jewelry. Together they share their love of art, giving workshops for the local grade schools and organizations. "I want to help young artists, just as other artists have helped me," says Darryl. This is well received from an artist who is also a culture-bearer and part of the living traditions of his People.
©The Indian Craft Shop 2002