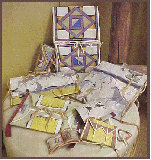 Ray Winters is a multifaceted artist, as comfortable working with architects to design a cultural center, as he is painting his "unpeopled" landscapes, fashioning traditional regalia or working on his parfleche creations.
"Parfleche is fun," says Winters. "I really appreciate the art from this earlier period. Their work inspires me. I have taken liberties with the designs -- using the traditional Plains frame of reference and then giving it my own personal twist." His art is easily identifiable as Plains, but look closer and you'll see his innovative and sometimes whimsical approach.
"Here They Come, There They Go," is a wonderful example. Warriors on horseback ride across on the front of the rawhide envelope into the village -- the scene continues on the back with warriors riding away. His "story pouches" are inspired by the traditional parfleche, these rawhide envelopes are beautifully painted with different scenes and embellished with cutouts, beads, fringe or other special adornments. "Falling Star" shows a detailed battle scene under a falling star. "Elk and Wolf" shows two battling elk, with other elk and wolves standing by as birds fly overhead.
Ray's work also includes pieces that 0bear traditional geometric Plains designs, finely painted with luminescent colors. His miniature, full-size regalia and other leatherwork are made with exacting detail. The warrior shields are elaborate, decorated with beautiful paintings, cutout figures, painted feathers, trade cloth, fur trim and painstakingly cut fringe. Each one a master work of art and culture. They evoke an appreciation of the past, with the creativity of the present.
"I've gone outside the traditional discipline," says Winters. "I use acrylic paint on buckskin or buffalo hide. The paints are non-acidic and won't harm the hides. All the beads I use are white hearts -- the same as those used during the trade period between our peoples." Ray uses rawhide (untanned leather) because it stands up to time.
"I credit my Grandmother for my success as an artist," says Winters. "She encouraged me to draw and create. We were poor, but she would find the money to buy me art supplies. In 1968, when I attended the Institute of American Indian Art, I was overwhelmed with the access to materials. The Institute was a springboard. Not only was I able to continue making traditional outfits, crafts and paint, I took Indian studies and learned to interpret exhibits and work."
Ray Winters, a talented and versatile artist working in a variety of mediums, also lends his expertise in other areas. This summer, he is cataloguing artifacts at Mesa Verde National Park. He is also working with architects on a design concept for an interpretive center in South Dakota. In addition to his experience at the IAIA, he has also served with the Indian Arts and Crafts Board at its Museum in South Dakota.
©The Indian Craft Shop 2001