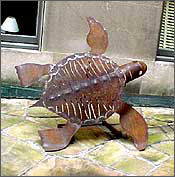 Pete Yazzie is a Navajo artist whose culture and traditional values come alive in his creations. He started his artistic career working silver like many Navajo artists, but today, he focuses on creating large scale steel sculptures. Pete grew up in a large family on the Navajo Reservation in New Mexico. His mother was from the Bitterwater Clan; his father from the Bear Clan. Pete's older brother, Harrison Yazzie, taught him how to work silver when he was young. "It was my mother who taught me about how to be a traditional artist. She was a weaver," says Pete. "I remember her getting up before dawn to pray before she would work on her weavings. She said that I should never work unless my mind and heart were clear."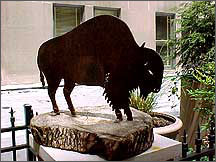 At twelve years of age, he was earning money by selling his jewelry to tourists and at shows, and would have continued if his mother had not stopped him when he began high school. "Education was always important to my mother," says Pete. "She wanted to make sure I graduated." After high school, Pete moved to Chicago to attend the American Indian Ironworkers School where he met Indians from all over the United States. "We worked on the high steel buildings and were known as Skywalkers," said Pete. During this time, he continued his silverwork, making traditional and contemporary jewelry in various styles. Pete likes to experiment. In addition to the traditional Navajo style jewelry, he learned other techniques -- to cut and set stones in delicate inlay and to cut shapes from metal to create dramatic overlay. He also experiments with metals other than the traditional silver. He works with gold, copper and even the nickel silver used by Plains and Eastern Tribes.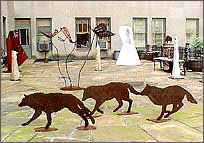 Pete worked as a steelworker for 20 years until an accident forced him to quit. He worked more on his jewelry and then one day decided to experiment with steel. "I sculpt sacred beings made by the Creator to remind us of their existence. Many of my sculptures started as a dream. My first pieces were a bear, a buffalo and then wolves," says Pete. "I work on several pieces at a time, working on one and then another. The work gets done in its own time. When I complete a piece, I feel like I've come full circle." Pete usually works in carbon steel, but also works in stainless steel, brass and copper. He uses an acetylene torch rather than the plasma cutters preferred by other steel sculptors.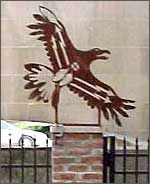 "I begin by smudging myself and saying a prayer. I give thanks for the gift of my talent and ask the Creator to guide my hands." Each of Pete's sculptures is an original. He may repeat a figure, but the designs will always differ. Each is a tribute to harmony and creation. "Each one has a story," says Pete. "Soaring Eagle," is a messenger to the Creator. The lightning design in its body represents life that comes from the thunderstorms and rain.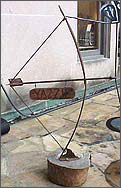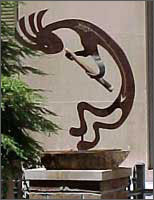 "Bow and Arrow" and "Kokopelli" come from petroglyphs he found in the canyons when he was a young boy herding sheep or looking for wood. "I made 'Pack of Running Wolves' to show wolves in a more natural state," says Pete. "They are movable so that the configuration can change." "Sea Turtle" started as a dream, Pete saw the turtle with a fire behind it, so decided to make it into a fireplace screen. "I learned a lot about turtles while working on this piece. It took me two years to finish and was the first sculpture where I cut, shaped and applied pieces to the base form. It reminded me of my silverwork - just on a much larger scale."
Pete is often called upon to provide traditional invocations and cultural presentations, as well as, preparation of Native foods. "I love sharing my art and culture," says Pete. "If it brings healing to someone in pain, or just appreciation for the beauty and harmony around us, I am happy."
©The Indian Craft Shop 2003