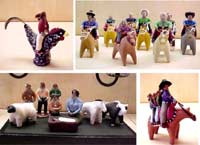 Described as completely honest and passionate, Navajo folk art is highly personal, often whimsical, and a charming reflection of rural life. Self-taught artists create works from communal traditions that are part of the everyday life of the people. Each piece embodies the love of art that comes from the individual artist and expresses the Navajo view of the world and the people, animals and spirits within it. Folk art is a popular American artform with dedicated followers.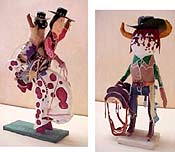 Navajo Folk Art has formed its own niche, with its artists gaining recognition within a larger audience. The fertile imaginations of Navajo artists have led them to craft such whimsical creations as vibrantly painted wooden chickens sporting cowboy hats, Indian cowboys riding bucking buffaloes, a dog in a business suit with a briefcase and a goat wrapped in a traditional blanket.
Navajo folk art is filled with diversity. Delightful mud toys, not only made for children, have young girls and boys, grandmothers and families riding on the backs of horses, sheep and chickens, and even Uncle Sam and Santa Claus. Horsehair, wool and leather are used for decorations. Sturdy sandstone figures are also carved into a variety of shapes -- from horses to Nativity scenes.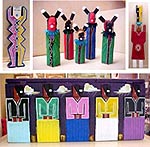 Multicolored wooden chickens are especially popular. Carved in a variety of shapes and sizes, they are painted in a brilliant rainbow of colors with a multitude of patterns -- polka dots, lightening bolts, swirls and stars, as well as, red and green chili peppers, an assortment of fruit, as well as, patriotic red, white and blue.
Colorful clay and wooden figures of Navajo men and women make ordinary scenes come to life, with each figure radiating its own personality. A drummer sitting on the ledge, a young man with a baseball cap and bandana, or women making frybread, all give us a glimpse of life on the reservation. Scenes are also made from beadwork, showing men and women on horseback, weaving a rug or herding sheep.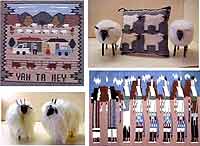 Pictorial rugs have a special place in Navajo folk art. Woven by master weavers, these rugs depict everyday scenes of families visiting the trading post, herding sheep and cows and weaving. Some of these weavings are even made into pillows. In addition to the reservation scenes, there are images of trains, letters of the alphabet, and stars and stripes.
Traditional pinon pitch pottery has evolved beyond utilitarian pottery to an artform. Beautiful deep reddish brown pots with dark fire clouds are coated with warm pitch from the pinon trees. The pitch waterproofs the pots and gives them their characteristic shiny finish. Today, a pot may have a tableau painted with rustic hogans, sheep, cows, trucks and other rural scenes, or even appliqued horned toads.
The diversity of this artform is unlimited, including baskets with woven scenes, figures or even the stars and stripes, colorful cloth dolls in traditional clothing, sheep and goats made of wood and wool. Navajo folk art has a special place in the world of art. There is so much diversity and innovation, no matter the artform, these works will warm the heart. Its charm has lasted through the generations -- and the best thing about it is that there is always something new.
©The Indian Craft Shop 2004