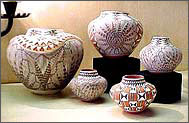 Working with clay has built a strong bond between the women in Marietta Juanico's family at Acoma. They have shared techniques, designs and a way of life through the generations. You can hear the pride in her voice as she talks of her mother, grandmother and mother-in-law, and that pride is reflected in her work. Making traditional pottery is a difficult and time consuming process, but the end product is one of artistry and beauty.
Marietta learned to make pottery from her mother Frances Concho and grandmother Helen Patricio, both well respected potters. She was six when her grandmother began teaching her to make small pots. "By the time I was in high school, I was good enough to sell with my grandmother on the Mesa Top at Acoma," says Marietta. "I made small and medium sized pots until after I was married. Then, my mother-in-law, Marie Juanico, encouraged me to build larger pots." Today, Marietta makes pots from 1 inch to 24 inches high.
Marietta's pottery is elegant and graceful, from wide mouthed ollas to long neck vases. In her smaller works, she often captures the shapes and forms of the old water jars and vases, then uses the traditional designs found on larger pieces to decorate them. The walls are thin and smooth, the painting is clean and precise. She uses some contemporary, but mostly traditional, designs of which several were passed to her from her grandmother - the black on white fine-line Starburst Rain pattern and the orange squares and brown triangles that comprise the Butterfly pattern.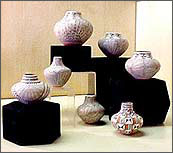 "All of my traditional pottery comes from the earth," says Marietta. The clay and pottery shards (broken pottery) are mined on the reservation. The yellow-orange paint comes from yellow sand that has been strained and ground. The brown-black paint comes from a stone found in the dry riverbeds. Her pots are hand-built, using the traditional coil technique. She uses a coconut shell and wooden paddle to shape her pots and a smooth stone to polish them. She has stones of different sizes, the largest one handed down from her mother. Marietta uses the old-style yucca brushes to paint her designs. "I've tried the commercial brushes, but they just don't work as well," says Marietta.
Gathering and preparing the clay is a family affair. Everyone helps gather - Marietta's husband Melvin and their teenage children, Joshua, Katie Ann and Mary Helen. Melvin and Joshua grind and sift the clay, getting it ready to mix. Marietta has won a number of ribbons for her pottery. Her work is in museum collections in Albuquerque, New Mexico, and Phoenix, Arizona. She has demonstrated her pottery making at various shows and public institutions, including an Indian Market hosted by The Indian Craft Shop at the Smithsonian Institution's Renwick Gallery in Washington, D.C.
Language and culture are important to Marietta and her husband Melvin. Melvin has been serving as the Interpreter for the Pueblo for the past year. For the past two and a half years, Marietta has been teaching their native Keres language to children ages five to fourteen. "You can't teach language without teaching about culture," says Marietta. Her commitment is so strong that she is now taking classes to obtain her credentials in early childhood education so that she can also teach in the public schools. Marietta is admired and respected for her dedication to continuing pottery traditions and for teaching and sharing on the culture and language at the Acoma Pueblo.
©The Indian Craft Shop 2003