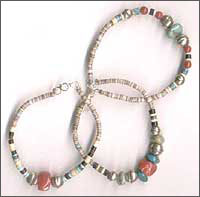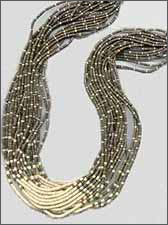 "They say the Great Spirit gave gifts to each of the tribes. To some it was basketry, weaving or working with leather. To the Santo Domingo, it was the ability to make pottery and heishi. We believe that as long as we continue using these gifts, we will prosper," says Lorraine Caté, an award winning artist who is following in the traditions of her family and the Pueblo.
In October 2002, the Indian Arts and Crafts Association honored Lorraine as the IACA Artist of the Year for 2003. Her winning piece, an exquisite 20-strand olive and melon shell necklace, is an outstanding example of the centuries old technique of making heishi. The word "heishi" means "shell necklace" in the Keres language spoken at Santo Domingo Pueblo.
As early as five-years-old, Lorraine showed an interest in making jewelry. Her mother Irma and grandmother Crucita fostered this interest, happy to pass on this integral part of their life and culture. Today, Lorraine's four-year-old son Clayton is showing the same interest.
While attending the Sherman Indian High School in California, Lorraine sold her jewelry to other students and even a few local galleries. After high school she continued her studies and jewelry making at the Institute of American Indian Arts in Santa Fe, also studying pottery and museum studies, but always coming back to jewelry making, specifically heishi.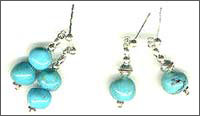 "My mother has been the biggest influence on my artwork," says Lorraine. "When I was young, I would work fast to get a quick return. She tried to tell me to slow down and take my time. 'Make each piece as if it were your own. Make it something you would treasure for a lifetime,' she would say. She taught me to look at jewelry and realize that each piece means something and must be valued and respected. It took a while, but now I understand what she was trying to teach me."
Lorraine makes her necklaces from a variety of stones and shell -- turquoise, clam shell, olive shell, pipestone, jet and others. "I use modern tools for my work," says Lorraine. "I remember seeing my grandfather, Joe Caté (not to be confused with Joe Caté, Jr., Lorraine's uncle), making heishi the old way before clippers, drills and power tools. He was amazing."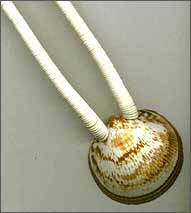 Heishi making is still hard work and requires great patience. Raw materials are sliced into strips and cut into small squares with nippers. A dentist's drill is used to make a small hole in each square which is strung on fine wire and nipped again, cutting the squares into rough circles which are ground into the desired shape. The final beads are smoothed with fine grades of sandpaper. The heishi is then washed in clear water, dried in the sun and polished to a high shine.
Olive shell is one of Lorraine's favorite materials. "I like the way they curl when sliced, and how nicely they lay when strung and shaped," says Lorraine. She always adds a signature single turquoise bead at the top of each piece. "I'm grateful for the IACA award and see it as recognition, not only for myself, but for all the fine artists at our Pueblo who continue making heishi in the traditional way. I hope this award is an inspiration to our young artists to keep this tradition alive."
©The Indian Craft Shop 2003