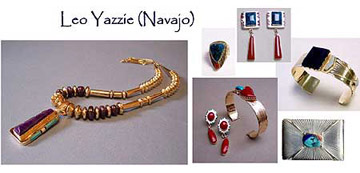 Leo Yazzie has been designing and creating fine jewelry for more than 30 years. Born and raised at Black Mesa on the Navajo Reservation in northeastern Arizona, the influence of the land and his culture is a part of each piece of his contemporary and sophisticated jewelry.
Leo uses both gold and silver to create jewelry with a unique combination of traditional and contemporary designs. "The inspiration for many of my designs came from watching my grandmother, mother and other women in the family weaving rugs. They told me their designs came from Spider. Now, I make designs inspired by the patterns they wove."
Leo's patterns vary, from a delicate cutout border with intricate detail to bold geometrics. It might be a gold panel with a geometric motif overlaid on a silver pendant; a cut-out stepped pattern encircling a stone; or a lightening shaped band on a ring. Whatever the pattern, the effect is sophisticated and elegant.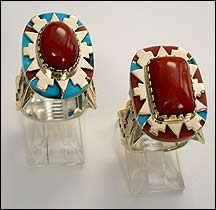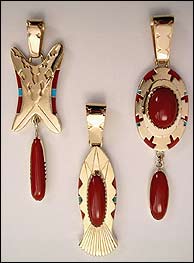 The classic use of turquoise and coral is a favorite combination of Leo's. The coral may range from pale pink to a very deep red. Leo uses turquoise of the highest quality, sometimes rare pieces from famous mines that have been closed for years. "I love working with quality stones," says Leo. To guarantee he'd always have the best materials to work with, Leo has collected high quality stones from gem shows and traders over the years.
In addition to turquoise and coral, Leo uses other semi-precious stones from around the world like sugilite, lapis, gaspeite, white opals and more. Sugilite has gained in popularity since its introduction in the 1980s. Found in the Kalahari Desert of South Africa, this stone with its deep rich purple to soft lavender color works beautifully with turquoise, or on its own. Leo enjoys pairing it with the fire in white opals.
Leo's settings are all handmade, often built up layer-by-layer. Designs are sawed out and appliquéd. Rich multi-colored side inlay will often be added to highlight a larger stone or add accent colors to the design. He uses channel inlay on some pieces, with the stones precisely cut flush with each other, so that they almost appear to be one stone. Some pieces will have a sculptural inlay, where each stone is cut and shaped, then fitted together.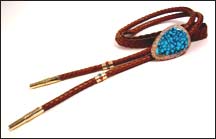 Leo's avant-garde work is fitting for today's contemporary fashions. His attention to detail and craftsmanship is evident in each piece and reflects his willingness to take the time to let a design emerge.
"I enjoy what I do and I like to take my time with each piece," says Leo. He usually works on several pieces at a time, working with one and then setting it aside to work on another, or taking one of his long walks. "I usually work for three hours each morning and then leave the pieces alone," says Leo. His long walks are important; they reconnect him with the land and life surrounding him.
The care and time that Leo takes fabricating each of his pieces has resulted in his winning enough awards and ribbons to fill two large boxes. Today, Leo has stopped entering contests. "I wanted to make room for the younger artists," says Leo. He may have stopped competing, but he has not stopped creating. This quiet man and gifted artist continues to innovate and dazzle us with his eye for color and attention to detail.
©The Indian Craft Shop 2005