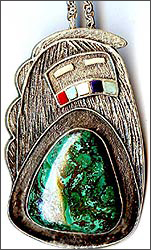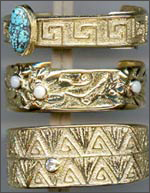 "When we create art, we share a piece of ourselves with the world," say Steve Wikviya LaRance and Marian Denipah. This husband and wife team are making their imprint on Native American art, as individuals and as partners, creating jewelry, paintings and sculptures. They are true artists, loving to create, innovate and experiment. They said that when they participated in a cultural exchange with artists from the Northwest and were introduced to Bill Reid's work, "He opened our eyes to the concept of going beyond being categorized as a jeweler, sculptor or painter, but to being seen as an artist," says Marian.
Born in Phoenix, Arizona, Steve was raised in the Hopi Village of Moencopi. His grandfather, a religious leader from Hotevilla, was a major influence on his life. At Hopi he learned the traditional arts of carving katsina dolls, making bows and arrows and working with silver. His first piece of jewelry was a bow guard he wore for ceremonies. In high school his interest in art increased and he began painting. After high school, Steve moved to Flagstaff to study business, but left school to work full time as an artist. He painted for a while, but it was sculpting in stone that excited him. He has become known for his Hopi designs in alabaster, marble and limestone.
Marian was born in Tucson, Arizona. With a father from the Navajo Nation and a mother from the San Juan Pueblo, Marian grew up sharing both cultures. While attending high school, she became interested in painting portraits. After high school, Marian moved to Santa Fe and later met Steve through mutual interests at American Indian events. While in Santa Fe, she attended the Institute of American Indian Arts and studied painting, photography, modern dance and ballet. She received her degree in Fine Arts from Northern Arizona University. While her training and expertise is in the style of the old European Masters, today she is more experimental and contemporary.
Their tufa cast jewelry is beautifully designed and impeccably executed. Steve and Marian gather the tufa from the Hopi Reservation. "I was able to find the site where Charles Loloma used to get his tufa," says Steve. "When we began, we were inspired by work from masters like Charles Loloma and Preston Monongye. We've studied the history of cast work and old techniques for inspiration. Recently, we have been inspired by Aztec, Inca and even Egyptian gold and silver jewelry. We just came back from a trip to Hawaii where we were moved by their designs and new materials."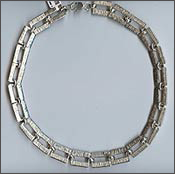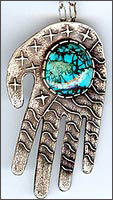 "I think of jewelry as little paintings in stone," says Marian. "Although jewelry is more graphic -- we can work with texture and design to bring more depth to a piece." Their distinctive jewelry uses traditional Native designs -- like petroglyphs, dragonflies, katsina figures and water designs -- in creative contemporary ways. The designs are often set with precious and semi-precious stones. Many look like small sculptures -- a Long-Hair Katsina set with a band of brightly colored stones or a traditional hand design with petroglyph-like stars and stripes in a tribute to the Nation's Capital. Always wanting to experiment and try new techniques, they are most recently creating a body of work using diamonds with gold.
To see our current selection, visit our online store at http://www.indiancraftshopsales.com

©The Indian Craft Shop 2003