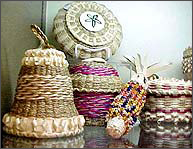 Barnes Family (Passamaquoddy)
The Barnes Family takes great pride in continuing the tradition of Passamaquoddy basketry. Passamaquoddy baskets were utilitarian, used for food gathering, fishing and storage. Their large-scale baskets could hold heavy loads and were in high demand by the local fish processing plants and potato farmers in Maine. In the 1800s, basketmakers began selling their baskets to tourists visiting Maine in the summers. Today, families like the Barnes continue this artform, making their own innovations along the way. Gerald Barnes learned basketry from his parents, Max and Angela Barnes, his aunt Clara Keezer. Today, Gerald's daughter, Carey Barnes, continues the tradition and Gerald's grandson, Jacob Gilbert Barnes Nicholas, age 8, is also beginning to learn basketry.
Caesar Family (Pawnee & Kiowa)
Bruce Caesar is known for Southern Plains style jewelry, made of German silver and other metals, that often incorporates symbols from the Native American Church. Bruce learned his art from his father, Julius Caesar, when he was just a young boy. Julius was not only a superlative craftsman, but was also an historian and teacher. As he traveled across the country exhibiting and demonstrating his work, he researched and recorded tribal variations in motifs and symbols and then incorporated them into his own styles. Julius and Bruce are credited for the revival and continuation of Southern Plains metalwork. Bruce taught metalwork to his son, Adam Caesar, who is now well accomplished. Bruce's wife, Arlene Paddlety Caesar (Kiowa), is skilled in the arts of traditional and contemporary ribbonwork clothing and dance apparel, and elaborate beadwork and leatherwork, including beaded jewelry, full-size and miniature medicine bags and buckskin animal pins filled with cedar. Arlene learned from her aunt, Winifred Paddlety Littleman, who learned from her mother, Magdeline Podoti Paddlety. Today, Arlene and Bruce's talented daughters, Krystal and Amy Caesar are continuing the family's traditions. The family travels the Southern Plains powwow circuit where their work is in great demand.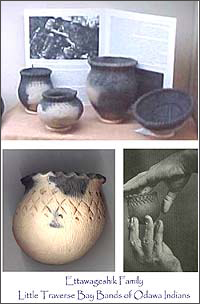 Ettawageshik Family (Little Traverse Bay Bands of Odawa Indians)
Frank Ettawageshik has been credited with the revival of traditional Woodlands pottery from the Michigan area. In his past, he had been hired to teach contemporary methods of pottery making, and operated a gallery producing stoneware pots, yet he yearned to learn more about traditional pottery. He began studying by doing research, talking to elders and studying under other masters and traditional potters from various tribal areas, including Lucy Lewis (Acoma). His research on Woodlands pottery from the Michigan area has taken him to numerous museums that now look to him for his expertise and research. His son, Joseph Ettawageshik, started making pottery when he was four years old and by age eight was working in his parents gallery, helping with sales and producing stoneware pots. Today, Frank and Joseph are both skilled in the traditional methods of collecting clay, building and firing methods of early potters.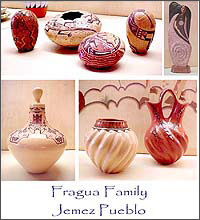 Fragua Family (Jemez Pueblo)
Juanita Fragua is today's matriach of the Fragua Family and is known for her smooth polished red and buff melon bowls, wedding vases and pitchers. Around age 13 she began making pottery, having been taught by her mother, Rita Mandelena, who learned from her mother, Benina Shije (Zia Pueblo). The Fragua Family has been instrumental in the revival of pottery making at the Jemez Pueblo. Juanita's daughters, Glendora and BJ Fragua, are carrying on this legacy with a combination of tradition and innovation, using classic Pueblo designs like kiva steps, spirit figures, rain symbols and corn along with their own designs on highly polished and finely carved pottery that has timeless elegance. BJ's 12-year-old son, Jonathan Chavez, is beginning to explore pottery, as well as beadwork. To add to the family's pride of accomplishment and continuation of the arts, Juanita's son Cliff Fragua, is a nationally acclaimed artist known for both table-size and monumental sculpture. A former student of the late Allan Houser, we are proud to have two of Cliff's monumental sculptures in our American Indian Sculpture Garden. Cliff's daughter, Tablita Fragua, is also continuing the arts, creating traditional pottery in both polished and painted designs.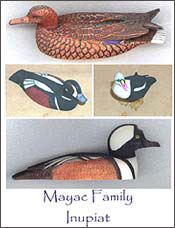 Mayac Family
(Inupiat)
The Mayac Family is one of the best-known ivory carving families in Alaska. Originally from King Island, Alaska, they have gained an international reputation for their realistic walrus ivory carvings of arctic birds. Ted Mayac, Sr., and Al Mayac learned to carve from their father, Peter Mayac. Peter learned to carve as a young man when he would go with other villagers to Nome. While they would sit on the shore under their beached boats to sell their fish, they would pass the time carving ivory. Today, Al Mayac, Ted, Jr., and their cousins, Larry and Fred Mayac, are full time carvers whose attention to detail -- carving each feather and painstakingly painting each one -- has landed their art in collections around the world. Rita Mayac, Ted, Sr., and Al's sister, is also an artist, carving graceful, smaller figures and well known for her ivory earrings.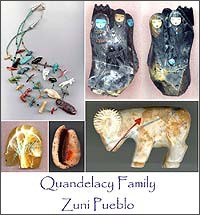 Quandelacy Family (Zuni Pueblo)
The Quandelacy Family is one of the best known fetish carving families at the Zuni Pueblo in New Mexico. Their tabletop fetishes and fetish necklaces are sought after by collectors from around the world. Today, there are nine siblings, all active artists, eight of them fetish carvers. Their legacy comes through their mother, Ellen Quandelacy who learned carving from her father, Johnny Quam. As a special gift for Mother's Day, Ellen's children created a necklace made of carvings by the family members. Before long, demand in the market came for the "Quandelacy Grandmother Necklace" which the family still creates on request. Each artist in the family is known for their own exceptional style of carvings: Avery for his horses, reminiscent of Ellen's; Albenita and Wilmer for their old style carvings; Georgia for her stunning necklaces; Faye and Sandra for their elegant maidens; Andres for his sinuous mountain lions; and Stewart for his quintessential medicine bears. Dickie is an accomplished inlay jeweler known for their hummingbird design. We will also have work from Dickie's son, Stuart; Faye's daughter, Talia; Stewart's son Chad; and Georgia's daughter, Kateri.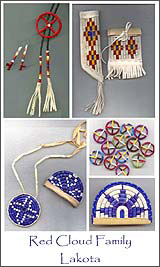 Red Cloud Family (Oglala Lakota)
Bernard and Christine Red Cloud from the Oglala Lakota Tribe in South Dakota have helped carry on the tradition of quillworking they learned from their elders and have passed it on to their children and grandchildren. Christine acts as a guildmaster to her family as they pluck, clean, sort, dye and flatten the porcupine quills, cure their own rawhide and create their colorful pieces. Nine of her ten children are quillworkers, as well as many of her grandchildren. Most of their pieces are made by wrapping the quills around strips of hide, but they also use the tubing technique that strings the quills like beads on thread or sinew. They create beautiful earrings, bracelets, bolos, medicine wheels and barrettes, as well as larger pieces such as knife sheaths, strike-a-light pouches, moccasins, pipe bags and even cradleboards.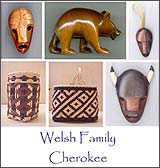 Welch Family (Cherokee)
Davis Welch has become a noted wood carver from the Eastern Cherokee Reservation. Using a variety of woods that includes walnut, palona, cherry and buckeye, he captures the character of animals such as bears, cats, owls, hummingbirds, wild boars and weasels. Some of his animal carvings even appear to be in motion, ready to "dart off." Davis is also known for his carvings of the seven clan masks of the Cherokee -- the Deer, Wolf, Bear, Wild Potato, Paint, Long Hair and Bird. Davis' mother was a renowned basket maker, Maude Welch. Today, Davis' daughter, Jamie Welch, has taken on the art of basketry, working with her mother, Carol Welch, who is one of today's best Cherokee white oak basket makers. Jamie is also working with beads, and we hope to have both her beadwork and basketry for the show.
©The Indian Craft Shop 2003