Arts of the Haudenosaunee (Iroquois)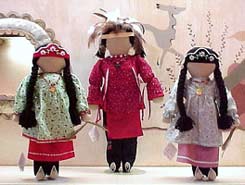 The arts of the Haudenosaunee have a beauty and spirit that comes from a culture rich in tradition and history. Haudenosaunee, which translates to "People of the Long House," are known to most people as the Iroquois Confederacy or League of Six Nations. Comprised of the Cayuga, Mohawk, Oneida, Onondaga, Seneca and Tuscarora nations, their homelands are in upstate New York and across the border into Canada.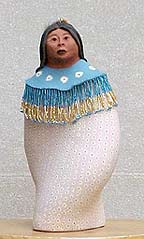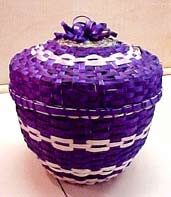 Proud to have retained their social structure with hereditary chiefs and strong matriarchs, the symbols of their history, legends and clans -- the turtle, deer, bear, wolf, snipe, eel, hawk and beaver -- are often present in their artwork. Kinship is also found in their relationship with the natural world -- Grandmother Moon, Elder Brother Sun, Grandfather Thunderers and the Three Sisters (corn, beans and squash). The turtle has special significance, representing Turtle Island onto which Sky Woman descended to give birth to Mother Earth. The Longhouse represents the six nations living in one great house. The Tree of Peace was planted by the Peacekeeper to mark the formation of the confederacy. Guarded on the top by an eagle, the tree has four white roots that all people can follow to join the Iroquois in peace. It may be placed on the back of the turtle, and can also have crossed war clubs symbolizing weapons deposited there when the founding chiefs abandoned the ways of warfare.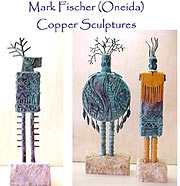 Active traders both before and after the arrival of the Europeans, the Haudenosaunee have always adapted to prevailing conditions. As the fur trade ended, they turned to producing crafts to sell to the tourists flocking to Niagara Falls. Today, their works are sold in museums and galleries across the country. Haudenosaunee arts have flourished and evolved into a wide variety of both traditional and contemporary expressions, incorporating many traditional Northeastern designs.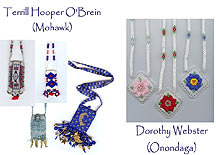 Basketweavers work with black ash splints, sweetgrass and other natural materials to weave decorative and utilitarian baskets. Cornhusk is a versatile medium that can be braided, woven, knitted and even crocheted. It is made into dolls, masks, baskets, mats and even moccasins. Beadworkers use a variety of techniques on their moccasins, bags, cushions and decorative items, and are especially known for their raised beadwork in elaborate filigree and floral motifs. Pottery includes hand-built clay and wheel-thrown stoneware, as well as contemporary sculptures. Bone and antler are carved and used in jewelry and scrimshaw. Metalwork consists of jewelry and sculptures in copper, sterling silver, gold, brass and German silver. Other artforms include stone carving, woodwork and painting.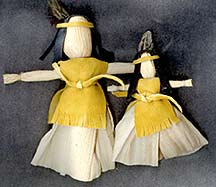 ©The Indian Craft Shop 2004