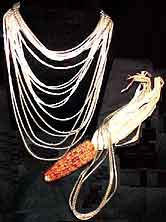 The artistry and beauty of Ed Aguilar's hand-pulled sterling silver chains lies in their elegant simplicity. Born and raised on the Santo Domingo Pueblo Reservation in New Mexico, he has been creating jewelry for over 40 years.
Ed studied silversmithing at boarding school in Santa Fe. Like many others from the Pueblo, Ed worked as a hot shot firefighter during the summers. Before he could finish high school, his father was injured and unable to work. To support his mother, three sisters and two brothers, Ed quit school and went to work.
In the 1960s, after watching his uncle "pull silver" into tubular beads for chains (also known as extruded silver), Ed decided to make jewelry. He taught himself how to make these beautiful pulled silver beads -- stringing them much the same as his mother had strung her hand cut stone and shell beads years before.
In the past, there were several Santo Domingo jewelers making hand-pulled necklaces. Today, Ed is one of the few continuing this art. Making these tiny silver beads by hand is time consuming and exacting, taking an infinite amount of patience and precision.
Working mostly in sterling silver, but sometimes in 14k gold, Ed makes both round and square chains in three sizes. In the larger sizes, he makes single and up to five-strand necklaces. In the delicate, smaller size, he's made necklaces with up to 50-strands. Ed sells his work to a select number of stores.
"I cut my beads with a diamond edge saw," says Ed. "If they are even 1/100th of an inch off, I won't use them." This attention to perfection is what makes Ed's necklaces so prized. They are versatile and timeless. They can be worn alone or with pendants. They display pendants so well, other jewelers are some of his best customers, using his chains to present their work. Several jewelers have tried to recreate his styles, but so far, all have found the effort daunting. It's easier to get them from Ed.
A strange twist of fate led Ed to create the exquisite square beads that have become known as the "Aguilar Chain." A salt-water diver from California had asked Ed if he could make her a necklace that she could wear underwater. Ed found that foxtail had the flexibility, strength and durability to stand up to this kind of use. However, the foxtail chain is square. As a result, Ed decided to try making the beads square to better fit the chain -- and his signature style was born.
Ed and his wife Mary, from Jemez Pueblo, live outside Albuquerque, New Mexico. She helps him with the stringing of his necklaces. At this time, they have three grown children and four grandchildren. He has hopes that his nine-year-old grandson will follow in his footsteps, making these unique, beautifully crafted, hand-pulled chains.
©The Indian Craft Shop 2002