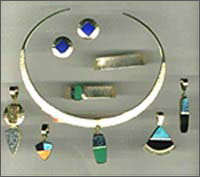 For almost 30 years, Duane Maktima has produced incredibly beautiful jewelry. His work has a distinctive sculptural quality that makes his pieces more than just adornment, they are small masterpieces of art and culture.
"My grandfather told me that 'Maktima' means searching for eagles," says Duane. His work has been compared to a bird in flight -- seemingly effortless grace and form. A master of design, his bracelets, necklaces and rings are elegant, with clean lines and geometric symmetry. Some pieces recreate symbols of the ancient Southwestern peoples, some echo Maktima's early love of Art Deco and Scandinavian design, but all are contemporary with his own unique style.
"Each of my baskets represent the tradition handed down through generations," says Gerald. In addition to his parents, Max and Angela Barnes, Gerald credits his Aunt Clara Keezer for helping him. Clara was recently awarded a National Heritage Fellowship Award from the National Endowment from the Arts for her basketry.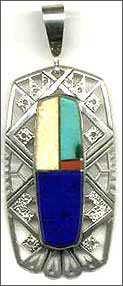 Maktima often combines brightly colored gemstones into dramatic geometric patterns he sets in gold and silver. Some may have a simple bezel that accents the stone, others may have an ornate filigree with ancient symbols or rock art designs with the stones as a centerpiece. The combinations of stones are dramatic and unusual. They may include the highest quality turquoise or coral, with diamonds or exotic gemstones like sugilite, lapis, opal, charoite, chrysoprase, chrysocolla, chalcosiderite, ironwood, fossilized ivory, dinosaur bone and more.
"The sculptural quality comes from a hollow-form technique I fashioned to give a three-dimensional look to my inlay work," says Maktima. It's not unusual to see a thin band of gold used as an accent in his channel inlay to enhance the stone. Many pieces, like his Mimbres animal pins, combine reticulated silver with brushed silver to give texture and added dimension to his overlay.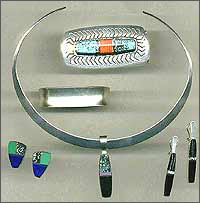 Soon after receiving his Bachelor's of Fine Arts in metalsmithing from the Northern Arizona University, Duane was awarded the Southwest Association of American Indian Arts (SWAIA) Fellowship. He has also received the School of American Research Katryn Lamont Fellowship and the Northern Arizona University Distinguished Centennial Alumnus Award, as well as the Millennium Alumnus Award. "I'm grateful for all of my success," says Duane. "The fellowships allowed me time to conduct research for my art, as well as time to figure out who I was and my place within the world."
"As an Indian artist, I feel we have something very valuable to share through our art. We represent the history and cultures of our parents and our ancestors. My life has been shaped by the experiences of my Hopi grandfather and Laguna Pueblo grandmother. They survived boarding schools, relocation and the changes these brought to the reservations. As a result, I really do live in two worlds. I am a contemporary person, doing contemporary work, but I'm still a very traditional and spiritual person."
Duane has come a long way from the 10 year old whose first paying job was digging a ditch, to the young man who earned money shining shoes and helping his grandfather make katsinas. A member of the Parrot Clan, this design is used in his hallmark. "We are living the prophecies of our People," says Duane. "I feel that I have the best of both worlds because of my grandfather's emphasis on education and hard work."
Duane has served on many boards and committees to help promote the arts, including the Santa Fe Arts Commission, the SWAIA Advisory Committee and the Crow Canyon Archaeological Center. Today, he is focusing on his art. He runs his studio gallery with wife Janice. His daughter recently graduated high school, his son helps with the business. You'll find him there, unless they've "gone fishing." Duane's favorite hobby is fly-fishing in the Pecos wilderness with his son, a junior world champion, featured in Outdoor Magazine last winter.
©The Indian Craft Shop 2003