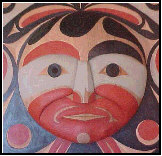 Coming from a family that has produced generations of Coast Salish woodcarvers, Andrea Wilbur-Sigo is the first known woman in the family to take on the craft. Born in Seattle, Andrea grew up on the Skokomish Reservation with carvers, bead workers and basket weavers. Andrea applies what she learned from them to her art today.
"I grew up surrounded by art. My family has always been deeply involved in the art and culture of the community," says Andrea. Andrea is the first great granddaughter of Andrew P. Peterson, first granddaughter of Bert Wilbur, Dennis Allen and Arline Wilbur, and the oldest daughter of Andrew Wilbur.
"I started at three-years-old on beadwork, then I learned how to make button blankets, weave baskets and to carve masks, panels and bentwood boxes. My deepest wish is to have my children carry on the traditions of both their Skokomish and Squaxin Island heritage."
Andrea carves bentwood boxes, masks and panels out of old growth yellow and red cedar, with an attention to detail that makes each piece a collector's item. Traditional Coast Salish designs have a fresh look with her use of clean lines and modern colors mixed with those of the past.
The panels Andrea carves are reminiscent of the large cedar plank screens that were used to separate the apartments of the chiefs and their families in the immense community houses. The bentwood boxes, or kerfed boxes, are made from a single plank and generally decorated with the clan crests of their owners. Most were watertight for holding food and liquids, while others were used to store household goods.
Her newest art form is doll making. Andrea creates dolls wearing traditional clothes, with masks, hands and feet carved from wood.
Involved with her community, Andrea lives in Shelton, Washington, and serves on the tribe's education board and, last year, helped the Squaxin Island Tribal Museum raise money though an art auction she helped plan at the Burke Museum in Seattle, Washington.

©The Indian Craft Shop 2001